This shop has been compensated by Collective Bias, Inc. and its advertiser. All opinions are mine alone. #MyGo2Pen #CollectiveBias
I am a natural list jotter and schedule follower. With kids, too, there has to be a way to make sure we're all headed where we need to go, as it would be easy to get lost in the day to day. This is especially true of back to school. For that reason, an organized desk and packs of proper writing utensils are a must. We like the Pilot G2 Premium Retractable Gel Ink Rolling Ball Pens.
Available at Walmart now in the back to school aisle, the G2 is the #1 selling gel ink brand in America. Known for its smooth writing and comfortable grip, the G2 product line includes four point sizes, 20 vibrant color options, and has been proven to write longer than all other gel brands. It's the only gel ink pen that offers this level of options. Be sure to click the G2 coupons.com coupon below to save .75 cents on any 4-pack or larger of G2 pens!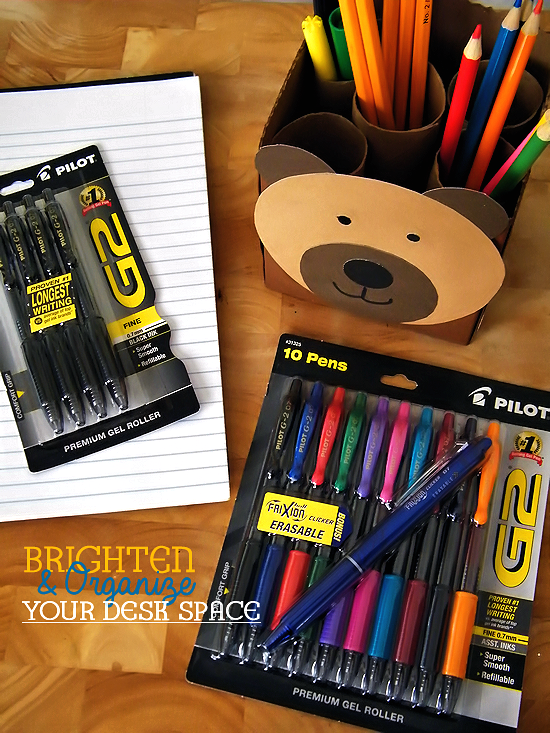 Ready to shop for your own Pilot G2 Premium Retractable Gel Ink Rolling Ball Pens? Hover over the photo to click through to Walmart.com and purchase them!
We picked up a couple different packs for home and school. First, we decided on a 10-pack of fine point Pilot G2 Premium Retractable Gel Ink Rolling Ball Pens. These come in assorted colors with the Bonus FriXion Clicker. You can also get the same pack with just black ink, but we grabbed a G2 Premium Gel Roller Packs 4 PK in black instead.
The smooth writing gel ink of the G2 had us at the first pen stroke. It's clear to see, and feel, why they're the #1 selling gel ink brand. The comfortable grip will make taking notes and finishing homework a lot easier for the kids, too.
To make our home desk a more welcoming station for the kids, and keep our G2 pens and assorted pencils more accessible as well, we made a cute DIY Desk Cubby desk organizer. Fun and functional!
Cubby as in bear cub, because we put a happy bear face and paws all around it. Get it?
For our DIY Desk Cubby you will need an empty square tissue box, 5 clean toilet paper cardboard rolls, hole punches, brown paint, 2 different shades of brown cardstock and black cardstock, too. Other than that, scissors and a black marker completes our DIY Desk Cubby bear cub desk organizer.
DIY Desk Cubby
Supplies needed:
empty square tissue box
6 clean toilet paper rolls
brown acrylic paint
light and darker brown cardstock, black cardstock
1" circle hole punch
¼" hole punch
black marker
hot glue or stronger
Start by cutting the top off an empty tissue box. Paint brown. This will probably need at least 3 coats. Let dry completely.
From the lighter brown cardstock, cut a large circle for the bear's face. We used the rim of a cereal bowl for this. Trace the end circle of one of the toilet paper rolls 4 times and cut out.
From the darker brown cardstock, trace the smaller rim of a glass and cut out for the bear's muzzle area. Trace the end of a toilet paper roll 2 times and cut out. Punch 4 1″ circles for the paws. Punch a total of 16 small holes for the bear's claws. From the black cardstock, punch a 1″ circle for the nose and 2 small circles for the eyes. Glue all in place.
Draw a mouth with the black marker. Insert and glue in place 6 toilet paper cardboard rolls.
Organize your pencils, markers, colored pencils, and Pilot G2 Pens for a colorful, happy, and useful DIY Desk Cubby! The kids love ours! Be sure to follow Pilot Pen for more inspirational home office ideas and check out more of our back to school ideas at Our Kid Things, too!