Pace® Baked Chicken Nachos
This shop has been compensated by Collective Bias, Inc. and its advertiser. All opinions are mine alone. #CampbellsShortcutMeals #CollectiveBias
When I'm looking for quick weeknight meal ideas, I'll find myself walking around Walmart hoping food inspiration strikes. It usually works. Our meals are going to be even quicker and easier coming up, though, as next month is a big one. It's back to school and a new baby, so there will be no time to be kept in the kitchen. A meal I can do even one handed, maybe. Or the kids can prepare themselves, even better.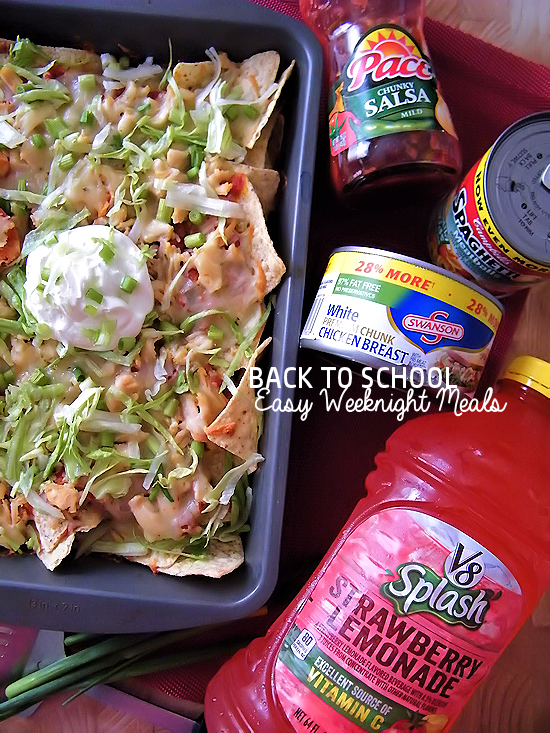 Ready to shop for delicious Campbell Soup Company ingredients? Hover over the photo to click through to Walmart.com and purchase them!
Fortunately, there's a lot of help that you can find at your local Walmart. Products that practically do the work for you. For instance, we picked up a can of Pace® and Swanson® Premium Chicken to be used in Pace® Baked Chicken Nachos. As well, we grabbed a bottle of V8 Splash® to go with it and a can of Campbell's® SpaghettiOs® pasta, just because my daughter likes it for lunch.
We like using Pace®, as it's versatile yet guaranteed to add a kick of flavor to your snacking and cooking with handpicked vegetables. It's trusted consistency from 70 years of southwest flavor know-how that's good on anything but ice cream. Swanson® Premium Chicken is heart healthy, low fat, and already cooked and ready to use for quick and everyday meals. You can't get any easier than that!
To go with our meal, V8 Splash® is a choice I can feel good about giving to my family that provides great taste and nutrients. Packed with a good source of essential antioxidant vitamins A & C, that's made with real fruit and vegetables, with fruity flavors the whole family will love. We grabbed a bottle of V8 Splash® in Strawberry Lemonade, as that's always a favorite.
Also in our so-easy-the-kids-can-do-it Pace® Baked Chicken Nachos are tortilla chips, lettuce, a sprinkle of green onions, refried beans, and pepper jack cheese.
Baked until bubbly and topped with sour cream or guacamole.
This Pace® Baked Chicken Nachos dish is not only an easy meal to make, but also easy cleanup. Everyone can even eat from the same layered dish it was baked in, one less thing for mom to worry about!
You may need to reheat the refried beans on the stove before adding to the dish, but that's the only extra step. Tortillas, beans, Pace®, Swanson® Premium Chicken, and pepper jack cheese baked at 350° for 10 minutes until the cheese is melted and the chips lightly toasted.
Top with a sprinkle of finely shredded lettuce and sliced green onions. Add a dollop of sour cream or guacamole in the center of the dish. And everyone digs in!
Pace® Baked Chicken Nachos
Ingredients
1 bag tortilla chips
28oz can Swanson® Premium Chicken
24oz jar Pace®
2 cups shredded pepper jack cheese
16oz can refried beans
1/2 cup finely shredded iceberg lettuce
1/4 cup sliced green onions
sour cream or guacamole
Instructions
Preheat oven to 350°.
Heat refried beans in a small pan on stove until warm.
In a large baking dish, begin layering nachos. Start with tortilla chips. Top with spoonfuls of refried beans and Pace®. Smooth and cover with a knife.
Add chicken, cheese, and green onions across the chips evenly. Add another layer of the same ingredients in the same order, if desired. Bake for 10 minutes.
Before serving, sprinkle shredded lettuce. If serving from the baking dish, add a dollop of sour cream or guacamole.
Looking for more quick and easy weeknight meals using Campbell Soup Company products? Check out all the Campbell's Shortcut Meal ideas!