This shop has been compensated by Collective Bias, Inc. and its advertiser. Product was provided by the client for review; however, all opinions are mine alone. #WorldsSmartestToothbrush #PhilipsSonicare #OprahsFavoriteThings #CollectiveBias
Christmas is the most wonderful time of the year, especially if you have little kids. Once those tiny tots turn to teens, however, the oohs and aahs are harder to come by. Teens are notorious for being difficult to please. It's OK, I used to be one of them, too. I vaguely remember what it was like. Thus, I try not to take it too personally. There are a few ways to even impress those unimpressable teens come Christmas-time, however. And one of those ways comes with a little help that's inspired by one of the items on Oprah's Favorite Things List 2017.
One way to really wow a teen is with the latest electronics and gadgets. Turning an everyday ordinary item like a toothbrush into an oral care experience is definitely wow-worthy. And ready to give a whole mouth clean is the Philips® Sonicare DiamondClean Smart 9300 Rechargeable Toothbrush.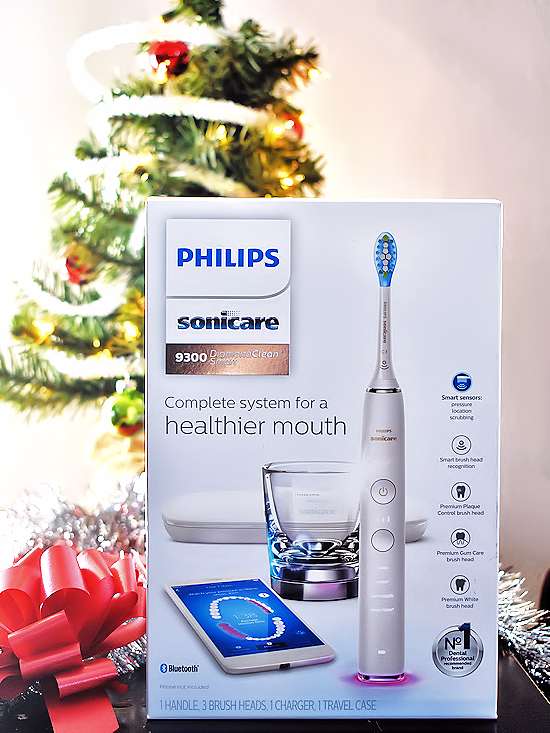 Click on the image above to find where to buy the Philips® Sonicare DiamondClean Smart 9300 Rechargeable Toothbrush
This new DiamondClean Smart gives superior results and 100% confidence in your oral care with four high-performance brush heads and Smart Sensor technology for personalized feedback and coaching. Yes, there's an app for that.
Available through Amazon, the Sonicare DiamondClean Smart 9500 was named one of Oprah's Favorite things in 2017. It just so happens that my teen had a similar DiamondClean Smart under the tree for himself, too.
Philips Sonicare is the #1 Dental Professional recommended brand. With smart brush heads that automatically select optimal mode and intensity for exceptional oral health results, along with an app to get real-time feedback and personalized coaching, it only makes sense to give the gift of a healthy smile! Your teens bright smile will really "wow"!
If you have a hard to impress teen to celebrate the holidays with this year, here are a few more suggestions that might actually get a "wow!" out of them.
Tips to Wow Your Teen This Christmas
Keep the Traditions – As oblivious as teens may seem, they need those family traditions more than ever before. They may be a little too big to sit on Santa's lap anymore, but they'll still enjoy driving around to look at Christmas lights, decorating the tree, and hanging stockings. Even if they say they don't.
Take an Interest – The best way to wow a teen is just to pay attention to what they like. Aside from the Philips Sonicare DiamondClean and a few other electronics and gadgets, my budding rock star will have plenty of items for his guitar under the tree. Because that's what he likes. So much so, I may even get a smile out of him. And it will be clean and bright thanks to the Philips Sonicare DiamondClean.
Wrap It Up – When wrapping their presents with any old wrapping paper just won't do, personalize it with our DIY Black Paper Wrapping Paper using metallic pens and black paper. These metallic pens are so neat against the black paper and perfect for my son and a few of his smaller gifts. Simply take a large sheet of black paper, draw lines or star shapes with a metallic pen, then wrap as usual. Finish with a bow.
Holiday Goodies – When all else fails, I've found filling their bellies with yummy treats works wonders. Our Snowman Cupcakes are a great easy dessert idea for kids of all ages. Good thing there's a Philips Sonicare DiamondClean under the tree.
Wow is Relative – Truth be told, it'll be really hard to get an actual "wow!" out of my son these days. I'm sure the same can be said for most teens. That ever elusive, yet sparkly clean, smile will do, though.
If you're looking to make a wow-worthy moment for the special person in your life, don't hesitate to learn more about the Philips Sonicare DiamondClean here! And find more fun Christmas craft and recipes ideas at Our Kid Things!